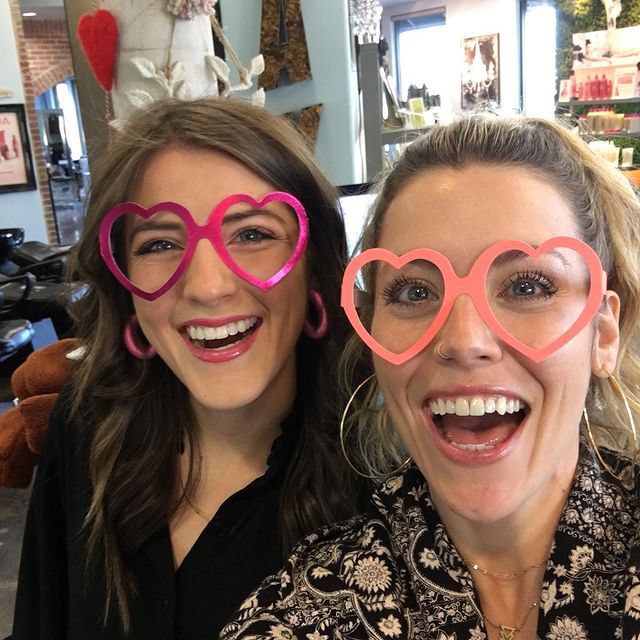 @dv8thesalon
As a post-pandemic world becomes our 'new new' reality, a slew of related management challenges have surfaced for salons. Perhaps most frustrating is the difficulty associated with attracting and hiring stylists and support staff.
All of a sudden, owners are battling with providers who've gone independent, are riding the wave of unemployment or have simply decided that being at home better suits their lifestyle. On top of that, because hair schools and testing sites have been closed, the usual pool of recent graduates has diminished.
The problem is so bad that salons are turning away clients due to insufficient staff. In fact, 90% of salon owners say that labor shortage is the biggest issue facing their business right now, and the problem is across the board:
Service providers are needed in 69% of salons
Front desk/support staff is needed in 24% of salons
88% of salon owners have altered their hiring practices
So how do salons, which offer terrific career opportunities, attract talent with staying-power in a post-pandemic world?
Know – your audience
Think – outside the box
Adapt – by changing the way you hire and train
KNOW – your audience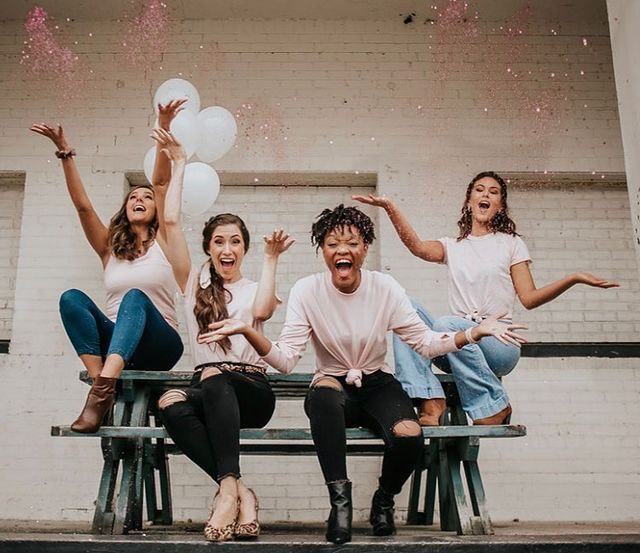 @chasingvanitysalongr
To be relevant in a social-media driven, post-pandemic world, salons need to rethink old-school recruiting methodologies. The promise of a great location with a busy clientele, a positive work culture and a top-notch support team alone is no longer enough to cut the mustard.
You're competing with the salon down the block for every viable candidate, so you're no longer in full-control of the hiring process (like you once were). This means that you need to separate yourself more than ever. But how? Simple. By knowing your audience.
Flexibility First. Young, creative employees want to manage their own schedules – so much so, that freedom is more important to them than earnings. To appeal to this group, include "flexibility" within your outreach messaging. But before you do, make sure you have a plan in place that backs this up in a way that works for your business and a software program like Aura that allows for flexible scheduling options that align with the way your salon operates.
Technology attracts talent. Today's talent pool wants to be associated with forward-thinking businesses and this impression begins long before you've connected. Prospects have already checked out your website, your social media presence and your booking platform. If your brand is "off", your website is outdated and not mobile friendly, or your booking software is clunky, you can say goodbye before you even say hello. Now is the time to take inventory of these things to make sure that your first impression is a strong one.
THINK – Outside the Box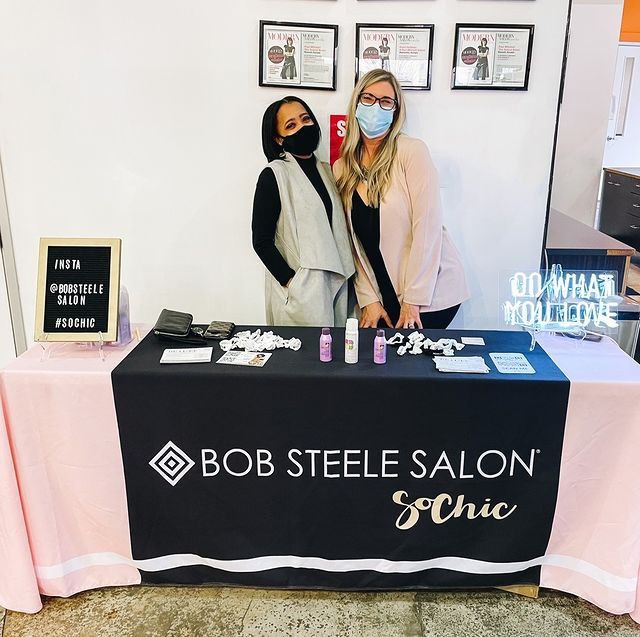 @bobsteelesalon
Everywhere you look businesses of all kinds are hiring, so it's important to realize that it's not only salons that you're competing with for quality team members. In the current economy, the workforce is presented with more choices, more freedom and more control than ever. You know that a career in the beauty industry is a great choice, but now you have some convincing to do.
Consider reaching out to other service industries to build your team. The restaurant, hotel and event industries are excellent places to broaden your net. Each of them have been significantly impacted by the pandemic and so has the customer-centric workforce they attract.
Start recruiting at the high school level. It doesn't sound like an immediate fix, but frankly nothing is. Bringing in talent that doesn't stick is expensive, time consuming and most dangerously, may present a negative experience to one of your clients. Ronnie Appel, Creative Strategist at Aura Salonware and a lifelong salon-professional points out that "there is tremendous benefit in finding young talent, grooming them and even investing in their education if you want to attract energetic team members who are in it for the long haul."
Offer sign-on bonuses. Like it or not, sign-on bonuses have become a normal component of the post-pandemic hiring landscape. But it's more than just fast-cash. Employees want to know that you're invested in them as much as they are expected to invest themselves in your business. They want to feel "wanted" and "pursued." While you're probably thinking that the timing of this trend couldn't be worse – you're just coming out of months of shut-down and cash is tight, plus there are good chances that this employee may not work-out – Jessica Soler, the owner of two Salon Red locations in Atlanta says a win-win solution is to pay the bonus over six months. For the new hire, it's something extra to look forward to and for you it's a safe hedge on your bet.
ADAPT – by changing the way you hire and train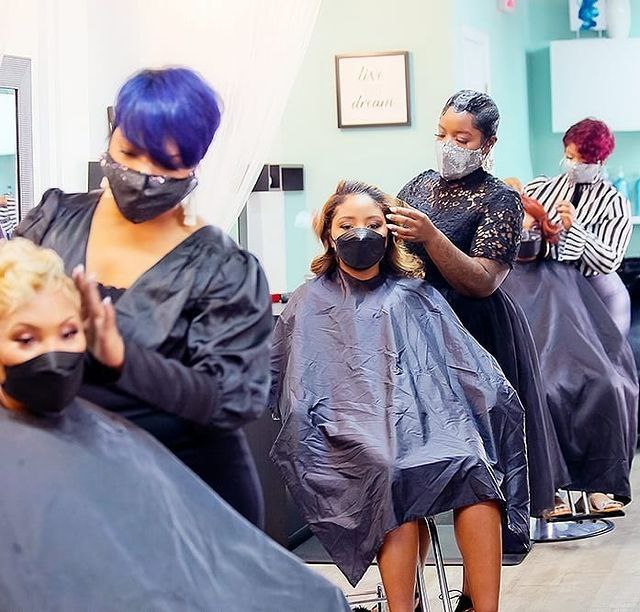 @kbbsalon
Nowadays, bringing in new talent or support staff needs to be a 360 degree endeavor with a package of bells and whistles that's more attractive than what other nearby salons can offer. Remember, your goal is not only to hire – but to retain staff. Offering the best chance of financial success is the best place to start.
Educate
"We've had a lot of people leave to go to a booth rental business, which had me thinking about the true differences between booth rentals and the salon experience," says Alice Chin of Atelier Salon. "Things like a team environment, having dedicated front desk staff, providing supplies so stylists don't have to worry about inventory and all of the other things that go into making a booth rental environment work. We make sure they know that they are covered by insurance, that credit card fees are absorbed by the salon and that they'll ultimately be exposed to less taxes, since they are an employee and not a business owner."
At Salon Red, Jessica Soler has been offering complimentary classes for all booth rental stylists in her area. Soler says, "For us, this is a way to connect with other stylists who may have never tried a salon environment, so we show them how it's truly a beneficial and rewarding experience. They can visit our salon, learn something new and exciting and create a connection with Salon Red. At the same time, we can evaluate the attendee's skill level and potentially reach out with a job offer."
Coach
More and more salons are relying on readily visible KPIs to drive individual and team success. Modern software programs like Aura have helped make this possible with realtime performance dashboards that keep critical numbers in front of providers by being accessible from anywhere on any device. "You've got to know how to grow" is the mantra of Christine Booher, Lead at DV8 The Salon in Grapevine, TX. who's seen a 15% increase in salon-wide profitability and individual successes as high at +38%, since DV8 started measuring growth via KPIs. According to Booher, "We are always driving our stylists to work smarter, not harder and technology allows that to happen."
Rethink Compensation
Looking for new ways to reward performance, Christa Stephens, owner of two InviktusSalon locations in Missouri, has created an atmosphere in her salon for added benefits, features and bonuses by utilizing retail profits. Stephens explains, "I am allotting 3% for front desk bonuses and higher hourly rates, 1% for vacation pay and 2% for stylist bonuses." These profits allow Inviktus to build in the structure needed to offer the things people are looking for in an employer.
---
How can Aura Salonware help?
Aura Salonware helps salons adapt to the new salon economy by providing digital tools that decrease staffing needs, modernize operations, automate marketing, expand payment options, while providing salon guests with the highest level experience possible. If you're interested in modernizing your salon with all-in-one software created and loved by salons, contact Aura today for a personalized demo created just for you. Contact Aura for Special PBA Member Promotions at 844-GET-AURA, hello@aurasalonware.com or schedule a demo at: AuraSalonware.com/PBA