You're an expert. A haircutting guru or a prosperous salon owner; a coloring maven or a talented industry editor; a master makeup artist or a life-changing educator.
With your skills and experience in the beauty industry, we want experts like you to be a judge for NAHA in 2021!
NAHA (the North American Hairstyling Awards) has a solid reputation as the most prestigious professional beauty competition in North America; a large part of its status and reputation stands on the shoulders of its phenomenal judges.
Every year we hear from entrants how excited they are to have their work assessed by industry legends and experts. Could that be you?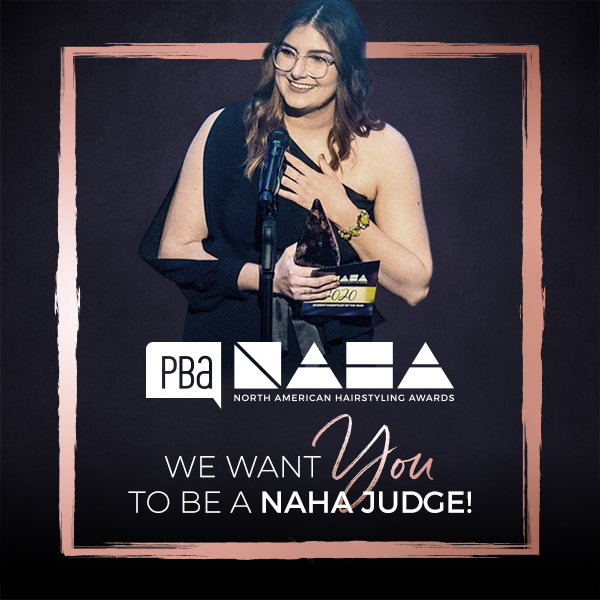 How does being a NAHA judge benefit you?
An elite group of industry members, NAHA judges are the best of the best.
Being a NAHA judge is an honor in the industry, and a role worth celebrating! Past judges have used the title as a way to further demonstrate their expertise.
Whether included on a resume, shared on social media, or displayed in your salon, being a NAHA judge can be used as a testament to your skills, contribute to your expert reputation, and to promote your personal branding.
How does being a NAHA judge work?
If chosen, you will be assigned to judge 1-2 categories that best fit your experience and skillset.
Concerned about the time commitment? Not a problem, we promise! The entire process should only take a couple of hours and is as easy as a quick trim. Judging is all done online, where you will be able to examine entries with ease and include your thoughts and comments completely anonymously.
Been in the NAHA game for a while? We've got updates!
Introducing… two new categories: Inspiring Salon of the Year and Educator of the Year! Entry for these categories will be a little different—click here and scroll down to Categories to learn about entry requirements.
Introducing… NAHA Remix! Life has been a tough struggle this year, and we understand that entrants may not have been able to shoot new collections this season. We're thrilled to introduce NAHA Remix, where you can revisit and reinvent, or "remix", a previously-created collection! Learn more about NAHA Remix.
Think you'd be the perfect NAHA judge?
Applications will be accepted from September 1-September 30. You can apply here.
If you have judged previously, you will still need to submit an application to judge for 2021.
Please note: if you enter NAHA, you cannot be a judge.
Visit our FAQs to learn more!